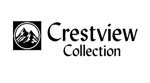 Crestview Collection
Brand's Average Product Rating
Based on 2,172 total reviews.
About Crestview Collection
In 1968, President and CEO of Crestview Collection, Jerry Lee, began a journey to achieve the American dream. Traveling from Taiwan to America he brought with him natural Eastern philosophies and combined those with 30 plus years of Western experiences to lead his company. Along with a strong management team, creative designers, an expert sales staff and a group of talented office and factory personnel Jerry Lee's dream is being realized as Crestview Collection is becoming a leading source for accent furniture, portable lighting, and accessories.
Crestview Collection Collections