Nursery Furniture
Loading today's best sellers…
My First Baby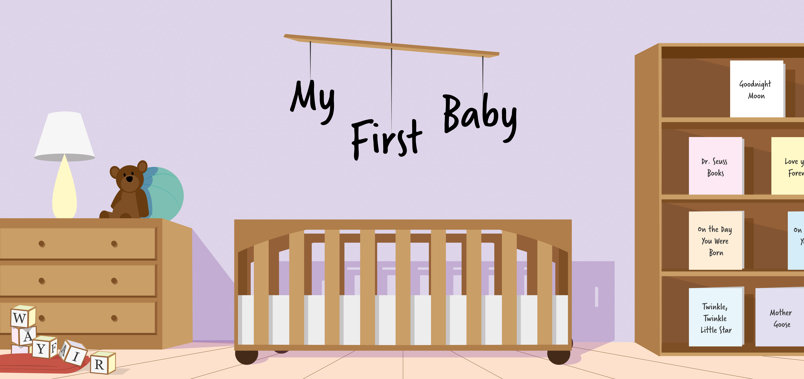 At Wayfair, we want to help customers make well-informed purchasing decisions. When it comes to purchasing for the home, different life events will lead to different kinds of purchases. One of those life events might be having a baby, and we know creating a cozy and stylish nursery is a top priority for expecting parents.
We realized it would be valuable to collect data on the nursery creation process as well as some special information on important milestones for babies.
We polled parents who have created nurseries before and asked questions about budget, whether or not they went over budget, and how they purchased nursery products such as a crib, a rocking chair, or a changing table. Did they buy everything new from a store? Or is it best to buy some items new and receive some as hand-me-downs? We also threw in a few fun questions about first toys and Halloween costumes.
459 parents who had either completed a nursery or were in the process of completing one took the survey. Important highlights include:
Most expecting parents spend between $0 and $1,000 to outfit their nursery, but some spend between $1,000 and $3,000.
Essential furniture items include: crib, mattress, bedding, storage items, décor, bassinet, and changing table.
The most popular baby furniture hand-me-downs are bassinets, rocking chairs, and changing tables.
Popular nursery room colors for boys are blue, white, grey and green. For girls, they are pink, yellow, white, blue, green, and purple. Green and yellow are popular colors for parents who choose not to learn the sex of their unborn baby.
New parents most often read "Goodnight Moon" to new babies. Pumpkins are the most popular first Halloween costume, and a stuffed animal is the most popular first toy.
Nursery Furniture Budget – How Much Did You Spend?
For this question, we clearly defined that the budget includes furniture, décor, paint, and bedding.
$0 to $1,000
$1,001 to 3,000
$3,001 to $5,000
$5,001 or more
Just over half (55%) of respondents said they budget between $0 to $1,000, While about a quarter (27%) of respondents did allocate $1,001 to $3,000 for creating a nursery. Less than 10% of expecting parents spent anywhere above $3,000 (6% budgeted $3,001 to $5,000 and just .44% came in at $5,000 or more).
We also wanted to get a feel for whether or not expecting parents go over or under their baby furniture and décor budget. Just over half of the respondents (54%) spent what they budgeted, while 26% went over budget and 20% went under budget. Be sure to stay organized with your purchases to ensure you aren't overspending. If you under-spend, you can re-allocate the extra money to diapers or baby food.
What are Essential Baby Furniture Items?
This is an important part of the survey and the main motive for its creation. We wanted to help give expecting parents an idea of the items they should buy new and the ones they could try and track down used. We also wanted to provide a clear list of essential nursery furniture based on what expecting parents brought into their homes. Chose to own means that they either bought new, bought used, or received as a hand-me-down.
We placed items into two groups: essential and nice-to-have. Nursery items were marked essential if more than 50% of respondents chose to own them. Items were marked nice-to-have if under 50% chose to own them.
Essential Nursery Items:
Crib mattress
Crib
Crib Bedding
Nursery Storage
Nursery Décor
Bassinet
Nice-To-Have Nursery Items:
Gliders, rocking chairs, and rugs just missed our nursery essentials threshold. 49% of expecting parents purchased a glider and a rocking chair, while 45% chose to own a rug. If you're on the fence about including these items in your nursery, think about your budget. Are you under budget? If so, you can use the extra money on them. If you are over, maybe you hold off a little bit longer. It could also depend on the dimensions of your nursery. If the room is small, you can keep the room looking less cluttered by not including a rocking chair or glider. In that case, you can rock your baby to sleep in the living room or kitchen.
The two least popular baby furniture items are interesting. Only 29% chose to own a crib with a separate changing table attached and 16% chose to own a crib with a changing table attached. This tells us that most expecting parents choose to buy the crib and changing table separately and do not prefer nursery sets. While you can purchase nursery sets that come with a crib, changing table, and dresser, it appears most expecting parents choose to buy these items separately.
Purchasing Nursery Room Furniture Versus Buying Used or Receiving as a Hand-Me-Down
Our data shows buying new is more popular than buying used or receiving a hand-me-down, regardless of the furniture type. However, some nursery furniture is more prone to being purchased used than others. Twenty percent of respondents chose to receive a bassinet and a rocking chair as a hand-me-down. Least popular hand-me-downs included:
Crib Bedding – 5%
Nursery Décor – 7%
Nursery Rugs – 4%
No true surprise here. Bedding is very much a personal item and most choose to buy new than get used. Décor and rugs are very much a taste and preference decision. It could be hard to fit hand-me-down décor into the specific style nursery you are trying to build. It appears new parents try to find a handed down bassinet, which makes sense given the short length of time a baby uses it. Also, it was interesting that some new parents are willing to try and track down a hand-me-down rocking chair.
In general, receiving baby furniture through a hand-me-down was more popular than buying used but also followed the same general trend (bassinet and rocking chair were most popular bought used items).
Bonus: Other than bassinets and rocking chairs, the next most popular item either as a hand-me-down or bought used was a changing table. More than a quarter of respondents (27%) either chose to buy used or receive as hand-me-down. If you are over budget, try finding a friend or family member who might have an old changing table to help stay on budget.
Nursery Paint Colors
We also asked parents what color they painted their nursery. We wanted to get a sense for what was done for boys, girls, and what was done when expecting parents' chose not to know the sex of their baby.
Blue and white are popular boy colors while pink and yellow are popular girl colors. If you choose not to know the sex of your baby, green and yellow were most popular. Two surprisingly popular girl colors we noticed were cream and peach. Give it a go if you are up for it!
Popular Girl Colors:
Pink
Yellow
White
Blue
Green
Purple
Popular Boy Colors:
Most Popular When Expecting But Unsure of Sex:
Books, Toys, Baby Milestones, and Halloween Costumes
Picking out the nursery furniture is an important milestone for expecting parents, but we also wanted to provide you with some helpful information beyond just nursery décor. We asked expecting parents about books, Halloween costumes, and other important milestones for babies.
Books
We asked parents to name the first book they read to their baby. Of course, you can't go wrong with any books but far and away the most popular was "Goodnight Moon." Having that book on hand when you get home from the hospital could make for a very memorable first moment in your new nursery. Below is the list from most to least popular:
"Goodnight Moon" by Margaret Wise Brown and Clemet Hurd
"Love You Forever" by Robert Munsch and Sheila McGraw
"Dr. Seuss"
"Guess How Much I love You" by Sam McBratney
"The Hungry Caterpillar" by Eric Carle
"On the Day You Were Born" by Debra Frasier
"On the Night You Were Born" by Nancy Tillman
"The Giving Tree" by Shel Silverstein
"Twinkle, Twinkle Little Star" by Iza Trapani
Mother Goose Nursery Rhymes
"Brown Bear, Brown Bear" by Bill Martin, Jr.
First Toy
We also felt asking about first toy gives expecting parents' insight into what toys to get during the pregnancy. Far and away the most popular was a stuffed animal of some kind.
Stuffed Animal (bear, bunny, dinosaur, etc.)
Rattle Toy
Teethers
Blanket
Car Seat Toy
Car seat toys will come in handy as you begin to travel and run errands with your baby since it can be a way to occupy them throughout the ride.
Other Baby Milestones
Embed:
We also wanted to gauge some interest on child development milestones. We asked parents to give the month at which their baby completed the milestone below and calculated the average month for each milestone.
Note: The chart above does not reflect the exact time in months for each milestone. Milestones were calculated by averaging respondents answers to when their baby completed each item.
First Halloween Costume
Embed:
Another important milestone that we wanted to hear from parents about was their baby's first Halloween costume. Pumpkin is the most popular costume for a baby's first Halloween:
Pumpkin
Bee
Lady Bug
Monkey
Princess
Minnie
We hope you enjoyed this lovely guide to preparing your nursery and getting ready for the most important firsts with your baby!
At Wayfair, we carry a wide selection of products from Nursery Furniture so you can choose from many different options for your home. We carry the best Nursery Furniture products, so you can find one that is just right for you. With our large selection of home goods, you're likely to find something that you'll love. If you're looking for where to buy Nursery Furniture online, then you'll have no trouble finding a great option on Wayfair!