Bathroom Remodel & Bathroom Fixtures
Learn from Experts Who Bought Kitchen Flooring Before
We spend a great deal of time in our kitchens. From cooking to enjoying family time, the hours definitely add up. When it comes time to re-do your kitchen, you have to make numerous decisions. Decisions on products and prices and decisions on when important micro-projects get done. Since there are so many moving parts, we've asked a few bloggers who have recently done it, to answer some questions about their kitchen flooring they chose and installed, in addition to the kitchen makeover in general.
Let's first see what they have to say about kitchen flooring:
What kitchen flooring did you choose and why?
Toni @ Small Home Soul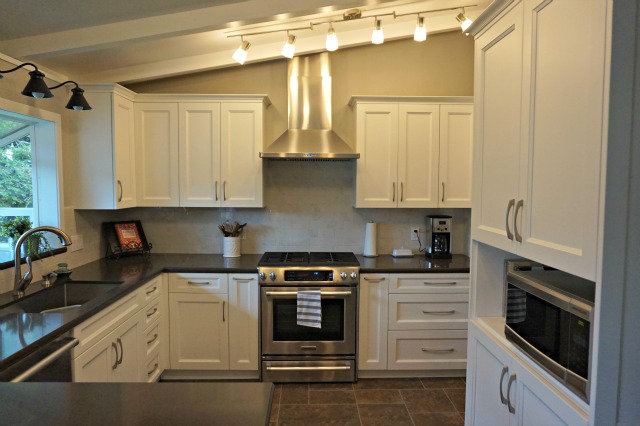 We installed porcelain tile during our kitchen makeover. When we installed the tile in our entryway a few years prior we bought enough for our eventual kitchen remodel. Our home is small, and I knew it would be important to keep the flooring as uniform as possible since it would be visible from almost everywhere in the main part of the house. It's a good thing we purchased it when we did because it was no longer being manufactured when we were finally ready to tackle the kitchen. We chose a porcelain tile because it's much stronger and more durable than ceramic. Things get dropped in a kitchen, and I'd rather have a broken glass than a cracked floor tile.
Maxine @ We Love Home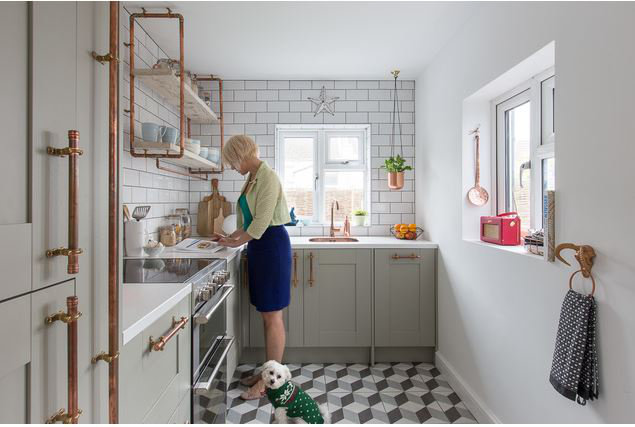 I went for highly patterned 'illusion' tiles from British Ceramic Tiles. I've been in love with these tiles for a very long time. They are just so cool and statement making.
Gina @ Is She Really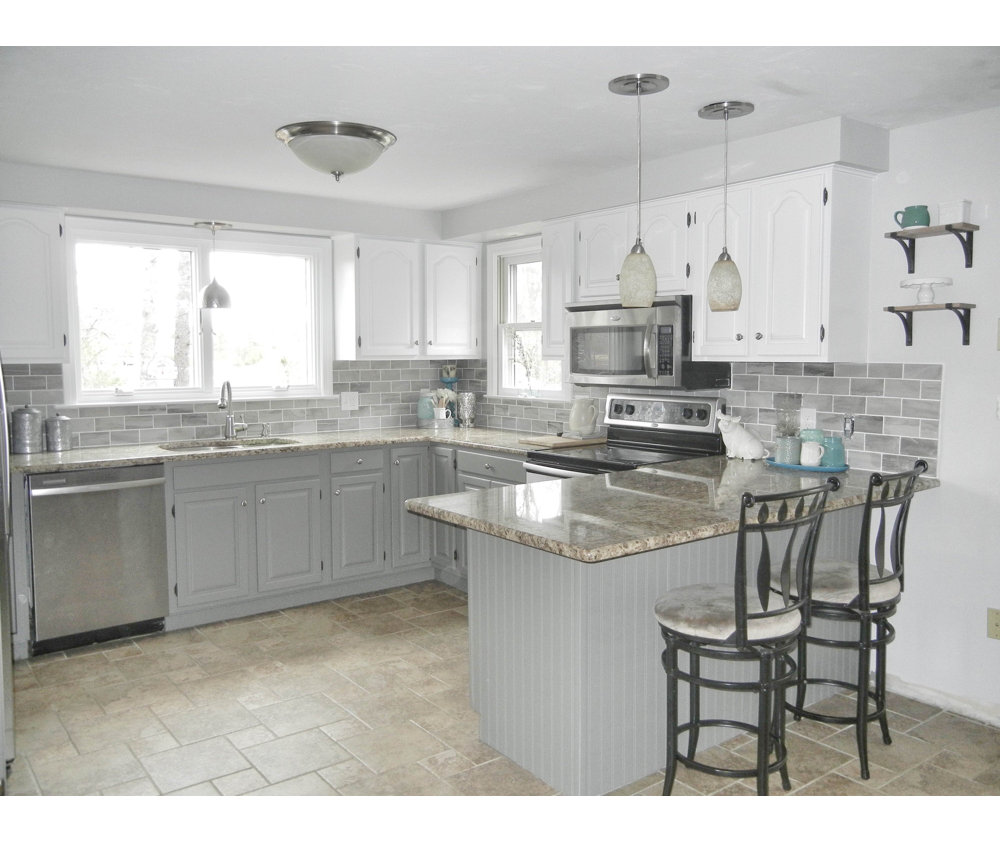 We chose large, neutral ceramic tile, because we felt that the amount of wood in our home was overpowering.
Katie @ Mountain Modern Life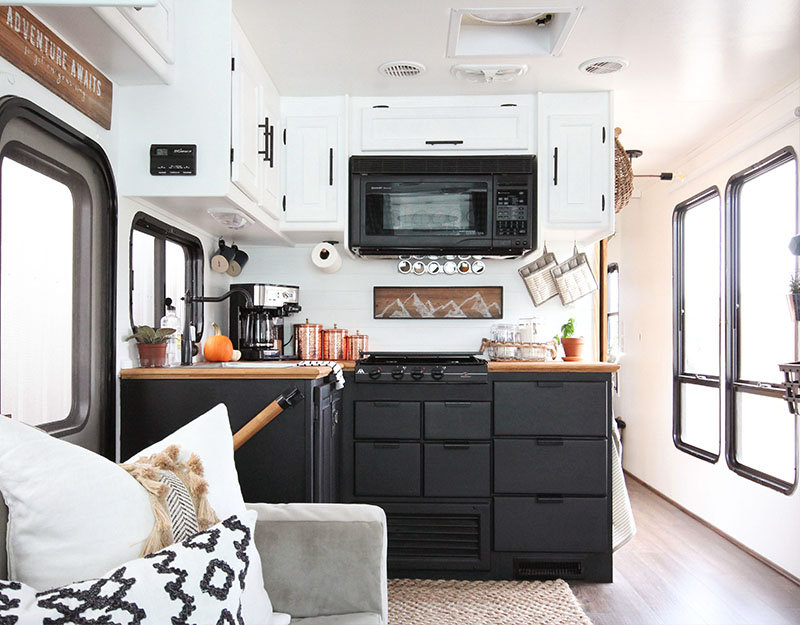 When it came to flooring options we spent a good chunk of time researching RV forums and browsing showrooms. We wanted something lightweight, rustic, easy to clean, and most importantly durable. We went with a vinyl plank style flooring because it checked all the boxes. We're so happy we did because it instantly changed the entire feel of our RV.
How did you choose to have your floors installed? DIY or professionally done?

We could have saved a few thousand dollars during our kitchen makeover by installing the flooring ourselves. We installed it ourselves in the entryway, but since our house is old with some unevenness in the floor we decided to let the professionals handle the larger expanse in the kitchen. We're thankful we went with professional installation as they were able to minimize the bumps and sloping in the floor.

Always call in professional. I wanted the tiling to be perfect. I was also getting underfloor heating put in too and wanted the finish to me amazing.

Our floors were DIY, my husband removed the wide pine planks and replaced them with tile himself.

To save on cost we installed the flooring ourselves. It was our first time tackling this type of project so we were nervous, especially when it came to installing flooring in our RV slide-out. We learned a lot along the way, and while it's not perfect it gave us the confidence to keep going with our renovation.
What do you like most about your kitchen flooring?

I love three-size tile systems and when we chose the tile for our entryway originally we had gray carpet but planned ahead for eventual hardwood floors. The color pallette of our tile includes grays and browns, so it went nicely with both our old carpet and with our new hardwood floors. The transition from the hardwood floors into the kitchen tile is very pleasing to the eye. Also, the darker kitchen floor contrasts nicely with the white cabinets I've always wanted.

The new kitchen flooring gives the space bold personality.

We really love the neutral color and that tile is very easy to clean.

Aside from adding the rustic-modern style we were going for, we love that our new kitchen flooring is easy to clean and maintain, especially since we have pets.
We didn't just stop at kitchen flooring questions; we also asked about the entire kitchen remodel process. Read on to learn more about these experts' remodeling experience.
What did you enjoy most about the kitchen makeover as it was going on? Why did you enjoy this part?

My favorite part of our kitchen makeover happened when the cabinets were finally being installed. Any large project takes time and patience. I had dreamed and planned for a new kitchen for so long and finally seeing the cabinets installed reassured me that going for a classic look and style was the right move.

I'm not sure living with no running water and eating salad for about four weeks, I could ever describe as enjoyable. And the dust was insane. In fact, the whole process was stressful - there was so much pressure to get as much squeezed into my tiny kitchen as possible - one small mistake and I could be without a washing machine or even worse a dishwasher! Once the room started to come together – when the sink was fitted and the countertops were installed – the room started to feel like mine. The best bit was when the tiling went down on the floor and the walls – I started to get very excited then.

I enjoyed watching our kitchen transform piece by piece. I work from home, so being able to watch the space transform before my eyes was amazing. I enjoyed it most because it's not often I get to sit back and watch projects take place, as I am generally the one doing the project.

The best part of our kitchen renovation was watching our vision come to life. Every time we added a new design element it would completely change the feel of the space, so it was fun to see the kitchen slowly unfold before our eyes. The fact that we were putting in the work to create a space that reflected our personal style made it so much more gratifying.
What was most challenging about your kitchen makeover?

There are a lot of moving parts when you take on a kitchen makeover or renovation. Even if you aren't doing it yourself, you will still run into snags in the process that can frazzle your nerves. We had to have our pantry cabinet rebuilt twice because of manufacturer errors. They got it right the third time, but the cabinet encountered some small damage in transport. This was a major stressor for me because we were nearly at the finish line and I wanted everything completed at the same time. Thankfully the manufacturer made everything right when they built decorative end panels to cover the damage. Those beautiful end panels made a huge difference in how the pantry cabinet looked overall and I was ultimately rewarded for all the stress caused by one cabinet.

The building inspectors insisted I insulate the walls as we had hacked off the plaster. It cost me an extra £1000 and the insulation ate into the space by 20 cm which threatened the layout of my kitchen. We managed it but only just. And now my kitchen is very toasty and warm.

The most challenging part of our kitchen makeover was having to live without a kitchen for about a week. We weren't able to access any of the cabinets or appliances for a full week, from 8 a.m. to 5 p.m.

Sourcing materials that would fit in the space and be lightweight while still being affordable proved to be much more challenging than we anticipated. The counters and cabinets feel standard size when you're in the RV, but we quickly realized this wasn't the case. For example, I would find sinks and faucets I loved but would discover they were too deep, way too heavy, or the faucet reached too far. This narrowed down our options, but I still feel we were able to mix style and function into the space. It's funny but you never realize how much something weighs until it becomes a factor, and in a RV, weight matters.
What piece of advice would you give people starting a kitchen makeover?

Whether you're doing the work yourself or hiring a professional it's very important to do your homework. Have some idea of what you want the end result to look like and don't be easily swayed by the opinions everyone will offer so freely. I found doing online searches and saving and pinning whole kitchens or just specific features helped me discover the look I wanted for my own kitchen. And get several cost estimates and/or bids before you sign any contract. And plan for cost overruns, they happen.

Plan plan plan! Have everything in place to avoid any delays; I ordered my taps and worktops weeks in advance of the work starting. Make sure you are also willing to change these plans too. I had to forgo a lot of ideas, and make changes on the spot, but I stuck to the core design.