Zolo
About Zolo
Zolo began with a dream to make the most fun toy ever. Something that went back to basics and inspired creativity in everyone. Armed with felt-tip markers, color pencils, and paper, it was around the kitchen table in their small Chelsea design studio in New York City that designers Byron Glaser & Sandra Higashi cooked up the idea for Zolo. With little money and rejected by the 3 major toy companies, it was their pure idealism and entrepreneurial spirit that made their dream come true. The original 55-piece, hand-carved, hand-painted wooden Zolo playsculpture set first made its debut in 1986, introduced to the world by The Museum of Modern Art, New York.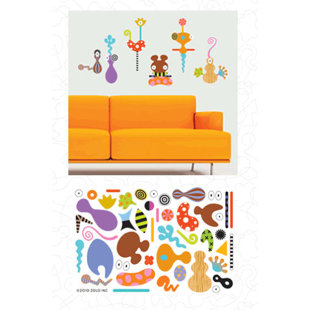 Zolo Deco contains an assortment of 47 decorative removable stickers that add color, whimsy and your own personal style to walls in any room in your house, your laptop, locker, notebook or almost any smooth, clean surface. Whether your taste is for abstract art or kooky characters, the decorating possibilities are as open as your imagination.
Overall Product Weight: 1lb.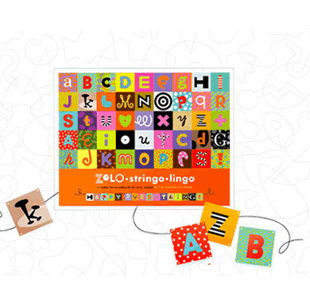 Stringo Lingo Banner Making Kit
by Zolo
Congratulations! Let's Party! Zolo Stringo Lingo is a reusable creative banner-making kit for every occasion! Compose names, greetings, or any message with these colorful Zolo letters, then string them together and display. For even more possibilities, turn and flip the letters, or create your own on the card backs. Stringo Lingo is ideal for home, office, dorms, summer camp fun, classrooms, displays and so much more.
Overall: 12'' H x 9'' W x 0.06'' D
Overall Product Weight: 1lb.