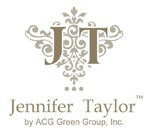 Jennifer Taylor
Brand's Average Product Rating
Based on 677 total reviews.
About Jennifer Taylor
The classic silhouettes and original designs that comprise the Jennifer Taylor brand is fundamentally based on their unique design philosophy where touches of simplicity and eclectic layering occur simultaneously, resulting in product that is beautifully unique, expressive and functional. Jennifer Taylor is a lifestyle brand for your home and for your life.