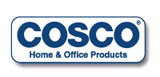 Cosco Home and Office
Brand's Average Product Rating
Based on 1,397 total reviews.
About Cosco Home and Office
For over 65 years, Cosco Home and Office Products have continued to lead the industry as the largest manufacturer of Step Stools and Ladders. From the beginning, with the production of a tin match box, Cosco has introduced and produced innovative products with tremendous value and quality that stands the test of time.