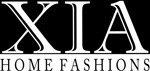 Xia Home Fashions
Brand's Average Product Rating
Based on 2,795 total reviews.
About Xia Home Fashions
Xia Home Fashions is a premier manufacturer of fine home textiles products! From table linens and kitchen textiles to decorative pillows, Xia Home Fashions has beautiful products perfect for any taste or occasion! They are constantly coming up with new inspirations, so be sure to check in regularly as there is always something new!