Woods Wire
About Woods Wire
Woods Wire offers a range of products that provide great value at good prices prices all year long.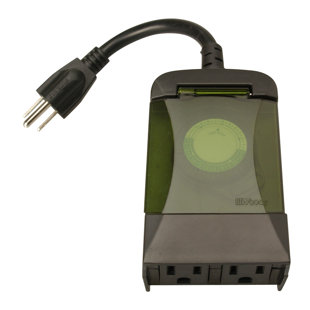 Outdoor 24-Hour Mechanical Light Timer
by Woods Wire
The Woods 50011 Outdoor Mechanical 3-Conductor 2-Outlet Timer turns outdoor lighting on and off at set times. Looking for a way to conveniently manage some landscape lighting or an outdoor animated holiday display? Plug it into this timer, choose your settings walk away. This leaves you free to enjoy your yard without having to remember to turn the lights on and off. Saves money too, by only turning lights or decorations on after dark and programming them to go off automatically so they do not...
Product Type: Timer
Lighting Type: Outdoor Lighting
Overall: 4.5'' H x 2.38'' W x 1.38'' D
Material: Metal
Can Be Used Outdoors: Yes