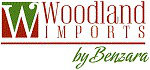 Woodland Imports
Brand's Average Product Rating
Based on 2,749 total reviews.
About Woodland Imports
Benzara Inc. is a leading wholesale supplier and importer of decorative accessories, home furnishings and giftware. Enriched with a vast experience for the last 20 years, Benzara Inc. has managed to stick firmly to its unique way of working with a passion.
Woodland Imports Collections