Swing Town
Brand's Average Product Rating
Based on 47 total reviews.
About Swing Town
Swing Town is a company that has been manufacturing and importing wood products into the United States for a number of years. Proud of the success over the years and Swing Town has increased production capacity, plant size, and added more staff to meet the growing demand of products and service. Offering treehouses, pet furniture and outdoor furniture, Swing Town is sure to be a company you'll stay with for years to come!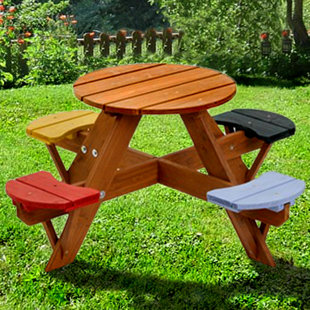 Kids Picnic Table
by Swing Town
Specially designed for outdoor use, the Swing Town Kids Picnic Table is a great place for your kids to have fun with their friends by playing card games or having meals. This table has colorful chairs. It is ideal for backyard, gardens patios, and indoor game rooms. Made using cedar wood, this picnic table is strong and long-lasting. As this table has excellent U.V resistant properties, its color does not fade over time. It is also insect resistant. This table has a seating capacity for four...
Assembly Required: Yes
Overall Product Weight: 23lb.
Total Seating Capacity: 4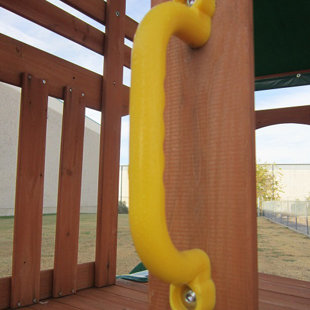 Safety Grip Handle (Set of 2)
by Swing Town
$18.99
($9.49 per item)
$26.99
Swing Town Safety Grip Handles provide your little ones with a helping hand when climbing up to a play deck. Can be mounted at ladder, rock wall, or other necessary positions on your Play Set. Safety Handles are compatible with all Swing Town play sets. Each package includes two handles and mounting hardware.
Pieces Included: 2 handles, 1 hardware bag
Color: Yellow
Material: Plastic
Weight Capacity: 115lb.