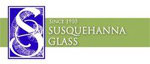 Susquehanna Glass
Brand's Average Product Rating
Based on 1,918 total reviews.
About Susquehanna Glass
Built upon a tradition of pride in craftsmanship and service, Susquehanna Glass has been in the business of making things personal since 1910. As a quality decorator of glassware, their techniques include deep-etching by hand on a stone wheel; sand blasting; silk screening; and laser etching.
Susquehanna Glass Collections