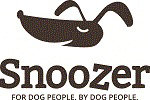 Snoozer Pet Products
Brand's Average Product Rating
Based on 1,959 total reviews.
About Snoozer Pet Products
Made in America, Snoozer products are crafted to provide long-lasting comfort to your pet, at home and on the road. Snoozer offers a wide variety of beds, car seats and accessories for your dog or cat, with many fabric options to suit your taste. Recognized for their comfort and quality, Snoozer dog beds have even been used in the White House.
Snoozer Pet Products Collections