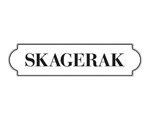 Skagerak Denmark
Brand's Average Product Rating
Based on 65 total reviews.
About Skagerak Denmark
A Danish owned and operated firm, Skagerak Denmark offers a full selection of finely crafted teak furniture with a uniquely contemporary design approach. Skagerak stands behind their commitment to environmental sustainability and quality design sense with their Danish teak furniture. We carry the full line of Skagerak outdoor teak furniture as well as their other contemporary collections. If you have any questions, please call our dedicated sales team today!