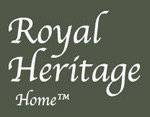 Royal Heritage Home
Brand's Average Product Rating
Based on 677 total reviews.
About Royal Heritage Home
Royal Heritage Home offers a complete line of sheets and crib/bed pads to help your little one get a complete nights sleep without interruption from uncomfortable bedding. Everything to fit cribs, porta-cribs and even pack and plays. All Royal Heritage Home products are made using the finest in natural and organic cottons.