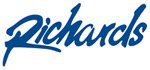 Richards Homewares
Brand's Average Product Rating
Based on 2,599 total reviews.
About Richards Homewares
Richards Homewares was started in 1939 in Los Angeles, California by Myron Freelander under the name of Richards Plastic Company. Myron took sheets of vinyl, die-cut them, sewed elastic around the edges and sold them to the dental industry as head rest covers for dental chairs. In the late 40's his son Bernard joined the business and they began to develop consumer products from the same vinyl: sweater and blanket bags, suit and dress covers, indoor furniture slip covers, etc. These were marketed to the notions department of department stores in Los Angeles. Over the years more and more products were developed, primarily from vinyl. At one time the product line included raincoats, and was sold to every department store chain in the southwest. Richards was the first manufacturer to go off-shore for sourcing, and in the early 70's grew to become a nationwide supplier to the notions industry. In 1976, Bernard's son Robert joined the business. In the early 80's Robert began to push the company into a wider range of product lines. Wooden hangers, steel garment racks, wardrobes, and canvas garment bags were added. At the same time, Richards began leading the industry with unique products and features such as injection molded ventilated shelving for sweater closets, the patented maxi-rack frame, and patented frameless garment bag, to name a few. In 1989, after 50 years, the name of the company was changed to Richards Homewares, Inc., which better described the nature of the business as it had evolved. In 1994, the company re-located to Portland, Oregon, an environment where it could afford larger facilities to handle future growth. Today, Richards boasts hundreds of items and continues, year after year to develop new products for home, storage, and closet organization.