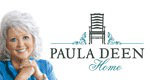 Paula Deen Home
Brand's Average Product Rating
Based on 2,963 total reviews.
About Paula Deen Home
A perfect symbol for southern comfort and hospitality, Paula Deen has become an icon in the food industry. Baking, roasting, cooking in her country chic style lends itself to her casual, eclectic furniture, inspired by Paula Deen, manufacturer by Universal Furniture. Shop the entire collection of Paula Deen Home to find the perfect bedroom furniture, dining room furniture, desks and occasional tables to bring a touch of Savannah, GA, Paula's own home, to your own.
Paula Deen Home Collections