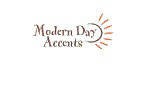 Modern Day Accents
Brand's Average Product Rating
Based on 740 total reviews.
About Modern Day Accents
Modern Day Accents offers the greatest in home accents for a refined taste. Selling the same fantastic accents you have learned to love with Bard International, their collection is vast and can fill the decorative needs of almost any space. Modern Day Accents takes great pride in finding unique and quality products from around the world. Please take some time to discover the ultimate in decorative home accessories.