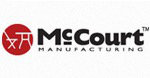 McCourt Manufacturing
Brand's Average Product Rating
Based on 10 total reviews.
About McCourt Manufacturing
McCourt Manufacturing produces stackable folding chairs, stackable stationary chairs, plywood folding tables with the SuperCorner option, and other event products. Their Commercialite® blow-molded folding table peaks the industry in durability and affordability. All products come in a variety of sizes and colors, storage systems are also available.