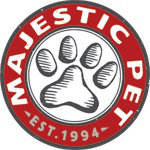 Majestic Pet Products
Brand's Average Product Rating
Based on 5,275 total reviews.
About Majestic Pet Products
Majestic Pet runs the show when it comes to pet furniture! With over 20 cat trees to choose from, and also a wide variety of pet beds, Majestic Pet is your one stop shop for products to show your furry friends how much you care.