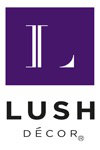 Special Edition by Lush Decor
Brand's Average Product Rating
Based on 628 total reviews.
About Special Edition by Lush Decor
Special Edition by Lush Decor, creates, manufactures and markets high quality, well-designed bedding, window coverings, shower curtains, decorative pillows and tabletop items. Lush Decor's purpose is always to give their consumer products for their homes that reflect today's styles, have long lasting appeal and most important are affordable. Their goal is to have their customers become lifetime brand advocates because of always having a positive experience with Lush Decor products.