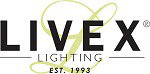 Livex Lighting
Brand's Average Product Rating
Based on 216 total reviews.
About Livex Lighting
Livex Lighting is a manufacturer and distributor of decorative residential lighting. Their company was founded in 1993 and is now headquartered in a 150,000 square foot facility in Somerset, New Jersey. Livex Lighting currently offers over 4,000 products ranging from lighting fixtures for indoor and outdoor applications to lampshades, chandelier shades, ceiling medallions and accent furniture.