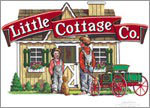 Little Cottage Company
Brand's Average Product Rating
Based on 43 total reviews.
About Little Cottage Company
In 1999 The Little Cottage Company was created and has continued since then to expand their catalog to include a variety of high-quality structures for adults and children alike. Nestled in the heart of Ohio's Amish country, The Little Cottage Company resides in a quaint slow-paced setting where old-fashioned craftsmanship and attention to detail have never gone out of style. Their experienced carpenters and skilled designers take great pride in creating top-quality pre-built models and DIY kits of playhouses, storage sheds, and personal chapels.