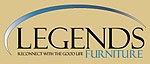 Legends Furniture
Brand's Average Product Rating
Based on 387 total reviews.
About Legends Furniture
Legends Furniture manufactures a full line of furniture in a variety of rich finishes, accented with exquisite details. Legends offers a selection of beautiful collections of home entertainment and home office furniture. Since 1990, Legends Furniture's focus on quality and customer service has never wavered.
Legends Furniture Collections