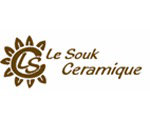 Le Souk Ceramique
Brand's Average Product Rating
Based on 525 total reviews.
About Le Souk Ceramique
Le Souk Ceramique is a small studio located in Nabeul, Tunisia, just a couple of kilometers from the Mediterranean coast. All of their ceramic production is hand-made and hand-painted at their studio. Le Souk Ceramique's workmanship is truly artisanal - they use no machinery for painting, nor any decals or stencils. They paint each piece freehand, as you can see in product photography. And of course they use only foodsafe paints and glazes; for your safety.