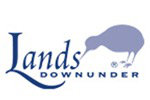 Lands Downunder
Brand's Average Product Rating
Based on 88 total reviews.
About Lands Downunder
Lands Downunder International, Ltd.®, established in 2001, and based in New York sources unique, high quality luxury products from around the world. Their brands include Lands Downunder Brushed Mohair throws®, Lands Downunder Brushed Alpaca throws® and Lands Downunder Italian throws® Their mission is to provide exceptional value and service to discriminating fashion-conscious customers. Lands Downunder throws have been featured in numerous home and designer publications such as "O" Magazine, Country Home, Elle Decor and Home Accents Today. Designs range from classic elegance to contemporary and fun. Their clients include fine catalogs, commercial designers, interior decorators, boutiques, upscale retailers, department stores, hotels, gift shops, museum shops and large distributor organizations. Their quality and service provide high value and customer satisfaction.