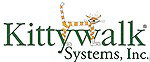 Kittywalk Systems
Brand's Average Product Rating
Based on 166 total reviews.
About Kittywalk Systems
Kittywalk is dedicated to providing pets with new and stimulating opportunities to view the world around us. Their line of outdoor containment systems includes a variety of cool and airy pet-friendly options for kitties to roam up, down, and around in complete safety. Since their inception seven years ago, Kittywalk has introduced a full line of pet strollers, creative indoor cat enclosures, and outdoor dog beds. Each day, Kittywalk works to bring new, innovative designs to the market so that pets everywhere can live their life to the fullest, happily and safely.