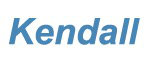 Kendall Healthcare Products
Brand's Average Product Rating
Based on 6 total reviews.
About Kendall Healthcare Products
Kendall Healthcare is now a part of Covidien. They are passionate about making doctors, nurses, pharmacists and other medical professionals as effective as they can be. From Autosuture to Valleylab, from Kendall to Mallinckrodt, their industry-leading brands are known worldwide for uncompromising quality.