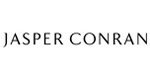 Jasper Conran by Wedgwood
Brand's Average Product Rating
Based on 23 total reviews.
About Jasper Conran by Wedgwood
Jasper Conran is a leading designer in English fashion design. He was educated at Port Regis and Bryanston School in the 1970's. He also studied in New York at the Parson's School of Art and Design. In 1999 he first designed crystal for Stuart Crystal and later china for Waterford Wedgwood. Bring some elegance into your own home today with a piece from Jasper Conran!