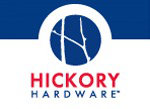 Hickory Hardware
Brand's Average Product Rating
Based on 5,664 total reviews.
About Hickory Hardware
Belwith Products designs and markets Hickory Hardware brand decorative and functional hardware to the retail, distribution, and OEM markets. It is a privately held partnership of individuals with knowledge and backgrounds in the decorative hardware, prime door, and security businesses. With their long tradition of style, design, and finish experience, they offer some of the most comprehensive decorative and functional hardware programs in the industry.