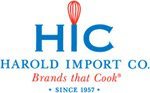 HAROLD IMPORT COMPANY
Brand's Average Product Rating
Based on 133 total reviews.
About HAROLD IMPORT COMPANY
Producing Culinary Supplies With Heart Since 1957. Each and every day at HIC, Harold Import Co., they aim to bring you the best culinary supplies, essential cooking tools, gourmet kitchen supplies, and food preparation equipment at the most affordable prices. This has been their mission since day one and it's at the very heart of their family-run business. Today, they carry over 3,500 culinary supply products from their own Family of Brands, as well as their extended family brands from 25 countries around the world. HIC, Harold Import Co. products are available in over 10,000 retail outlets worldwide.