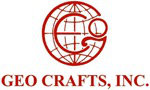 Geo Crafts, Inc
Brand's Average Product Rating
Based on 1,257 total reviews.
About Geo Crafts, Inc
Founded at the turn of the century in India, Geo Crafts roots go back to Indian Emporium and V.O. Vakkan and sons of Cochin, India. Now twenty years strong, with their distribution center located in Northeast Pennsylvania, Geo Crafts Inc. is a majory supply source for various floor covering products to the retail, catalog, and internet sales in the United States.