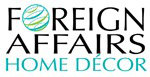 Foreign Affairs Home Decor
Brand's Average Product Rating
Based on 159 total reviews.
About Foreign Affairs Home Decor
Foreign Affairs Home Decor is dedicated to bringing you the absolute best of contemporary ethnic design for modern home furnishing, home decor, and interior design accessories. They only provide the best selection of unique items that are not readily available in any US marketplaces, sourcing exclusively from small producer, artists and artisans in Asia and Africa. Their products are all handmade from sustainable materials. Therefore all of the products will be slightly different from the images you see on site.