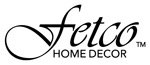 Fetco Home Decor
Brand's Average Product Rating
Based on 1,487 total reviews.
About Fetco Home Decor
Fetco Home Decor is here to help you make your home more beautiful. Fetco offers a complete line of elegant yet affordable items, ranging from photo frames to wall art to picture albums. They are proud of the fact that Fetco designs and manufactures everything they offer, and they stand behind the quality of their products with a satisfaction guarantee. Fetco is located in Randolph, MA, and has been providing top quality home decor for more than 40 years.