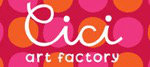 Cici Art Factory
Brand's Average Product Rating
Based on 84 total reviews.
About Cici Art Factory
In a world of mass production, Cici Art Factory pushes the boundaries of children's room décor. Inspiring and fresh paintings help parents stimulate children's imaginations and activate rooms with thought-provoking art. Cici Art Factory original paintings for children's rooms are already hanging in hundreds of homes worldwide. Many more are looking for good homes.
Cici Art Factory Collections