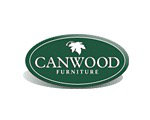 Canwood Furniture
Brand's Average Product Rating
Based on 519 total reviews.
About Canwood Furniture
Founded almost 25 years ago in beautiful British Columbia, Canwood Furniture takes pride in manufacturing high quality, affordable and stylish New Zealand pine furniture for the home. Browse their extensive line of Canwood kids' furniture including stylish wooden bunk beds, loft beds, dressers and armoires, nightstands, kids' desks and more. By shopping their selection of Canwood Furniture, you're certain to find the pieces that best complement your space and help create the perfect bedroom sanctuary.