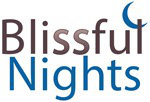 Blissful Nights
Brand's Average Product Rating
Based on 122 total reviews.
About Blissful Nights
Blissful Nights sleep systems adds relaxing and restorative elements to any bedroom. Blissful Nights Mattresses layer proprietary bamboo charcoal visco memory foam with pure visco memory foam to create a plush, pressure relieving sleep solution with medium to firm support. Pre-programmed for Reading, Zero Gravity and returning to a Flat positions Blissful Nights adjustable beds can be adjusted to achieve that "just right" blissful comfort.