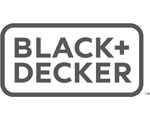 Black + Decker
Brand's Average Product Rating
Based on 8,246 total reviews.
About Black + Decker
The Black + Decker Home brand is built on quality, durability and value. Their appliances are designed to simplify life's daily tasks through a combination of durability, performance and practical convenience. For over 50 years, they have been a proven leader in products used throughout your home – from irons to toaster ovens, coffeemakers to can openers.