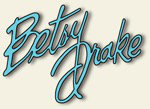 Betsy Drake Interiors
Brand's Average Product Rating
Based on 2,565 total reviews.
About Betsy Drake Interiors
Betsy Drake Interiors is an exclusive line of home decor featuring the original art and designs of North Carolina artists Betsy Drake and R. B. Hamilton. The line includes outdoor/indoor pillows, wall art, kitchenwares, tiles, coasters and more. All featuring Betsy and her husband's realistic renderings of florals, wildlife and scenes from their travels.