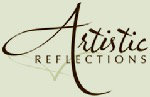 Artistic Reflections
Brand's Average Product Rating
Based on 1,612 total reviews.
About Artistic Reflections
For over 20 years, Artistic Reflections has been proud to offer high-quality items at a remarkable value! Their mission at Artistic Reflections is to provide you with superior value, exceptional customer service, quick delivery and a continually updated assortment of art products. The company growth depends on your satisfaction, and they will do everything possible to meet your needs!