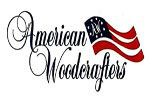 American Woodcrafters
Brand's Average Product Rating
Based on 324 total reviews.
About American Woodcrafters
American Woodcrafters mission is to provide their customers with value-added furniture products, services, knowledge and experience that are able to mutually satisfy their business relationships with dealers across the country. They are dedicated to delivering excellent furniture designs of exceptional value, with outstanding features & benefits, as well as to offer products that are well made, beautifully styled and are recognized for their fine quality finish.