From Roses to Onesies: Sean Lowe and Catherine Giudici's Perfect Nursery
Wayfair teamed up with designer Tori Swaim of New Arrivals, Inc. to bring this celebrity couple's dream nursery to life.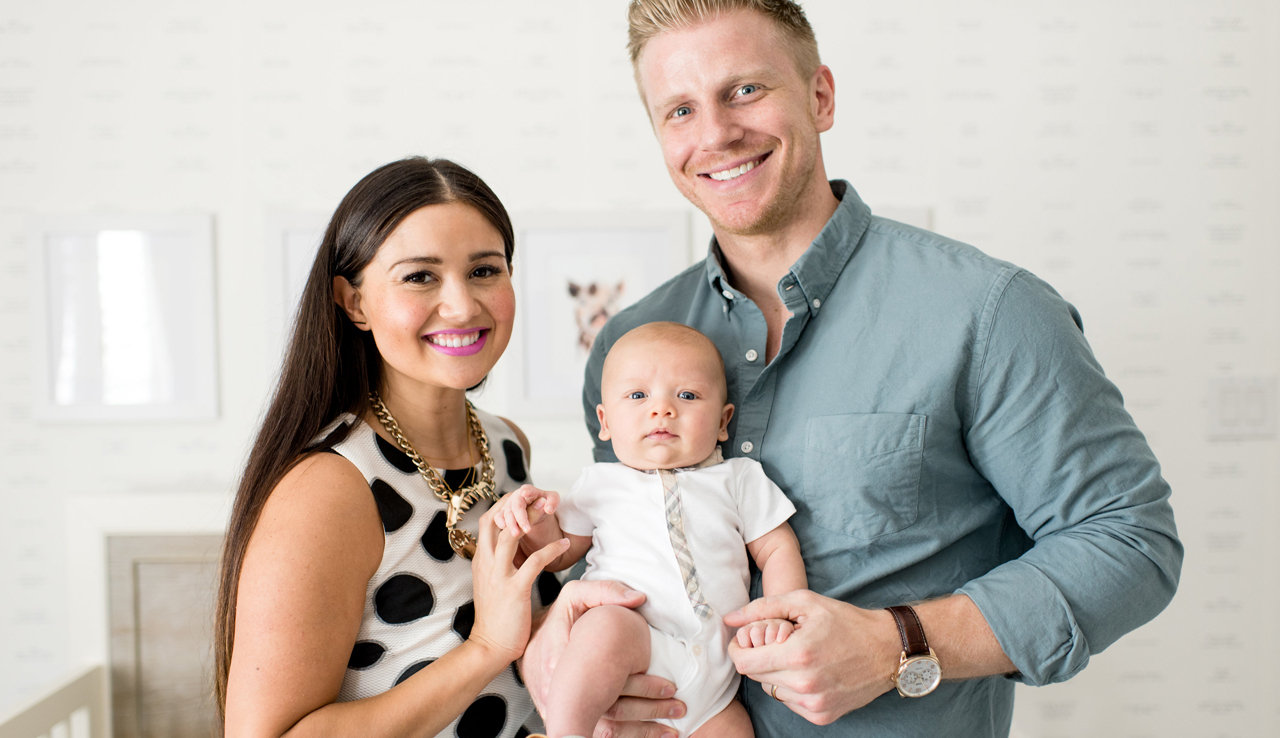 Photo: Julie Cate Photography
After finding true love in front of millions of viewers, Sean Lowe and Catherine Giudici have added one more to their brood, baby boy Samuel. To design their dream nursery, Sean and Catherine tapped designer Tori Swaim of New Arrivals, Inc. on the advice of friend and fellow Bachlorette, Trista Sutter. Content with either a boy or girl, the happy couple waited until the birth to know the gender, making Tori's job a fun challenge. Take the grand tour of this neutral nursery below.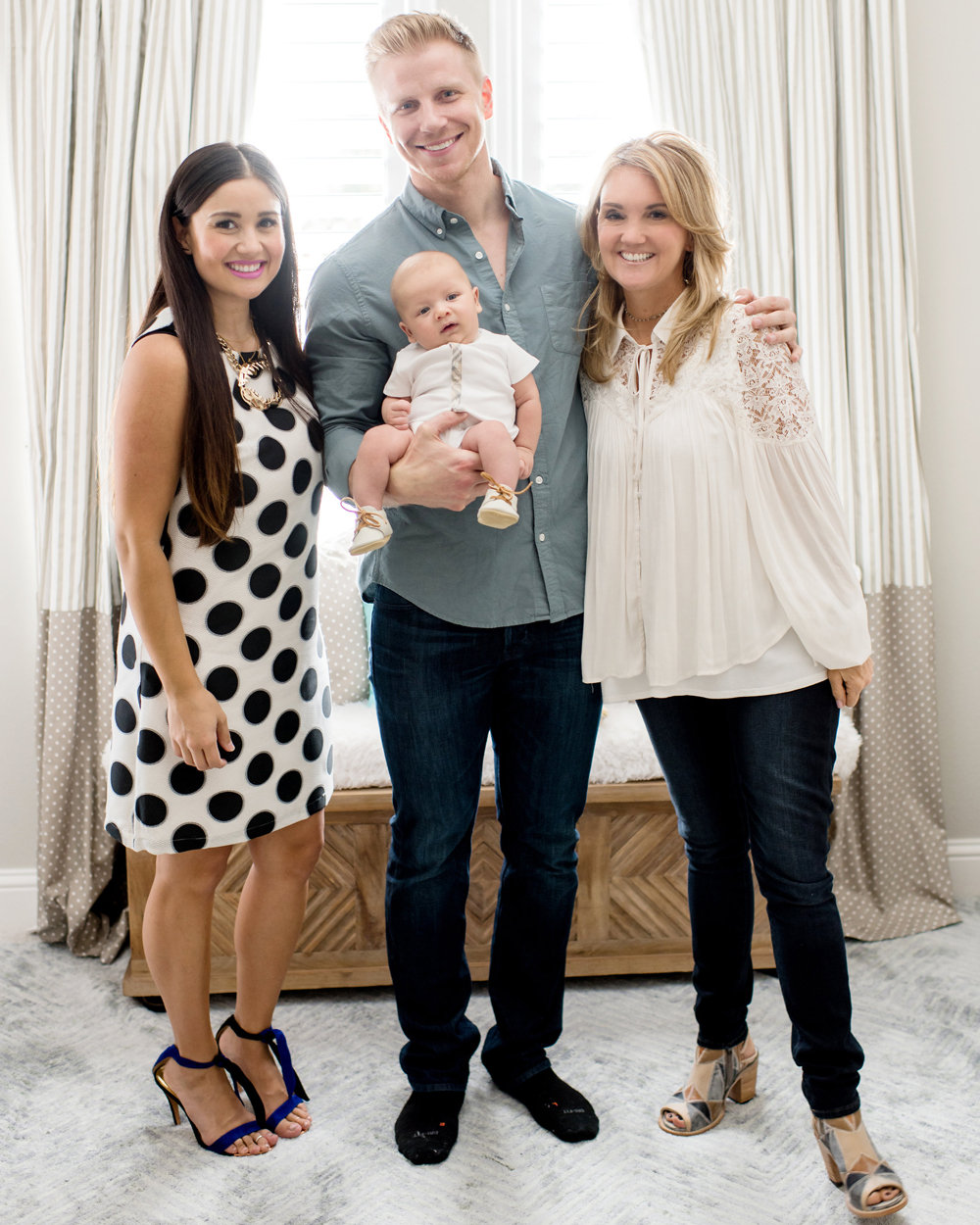 Catherine, how would you describe your design style?
I like comfortable layers with clean lines and a touch of eclectic.
You opted to keep the gender of your baby a surprise—was it difficult to design the perfect nursery without knowing if it would be for a boy or girl?
I prefer neutral designs, so not knowing the gender while designing the nursery wasn't a huge challenge. I like using different textures in whites, creams, and grays so the room feels comfortable for the baby and me. I think we nailed it!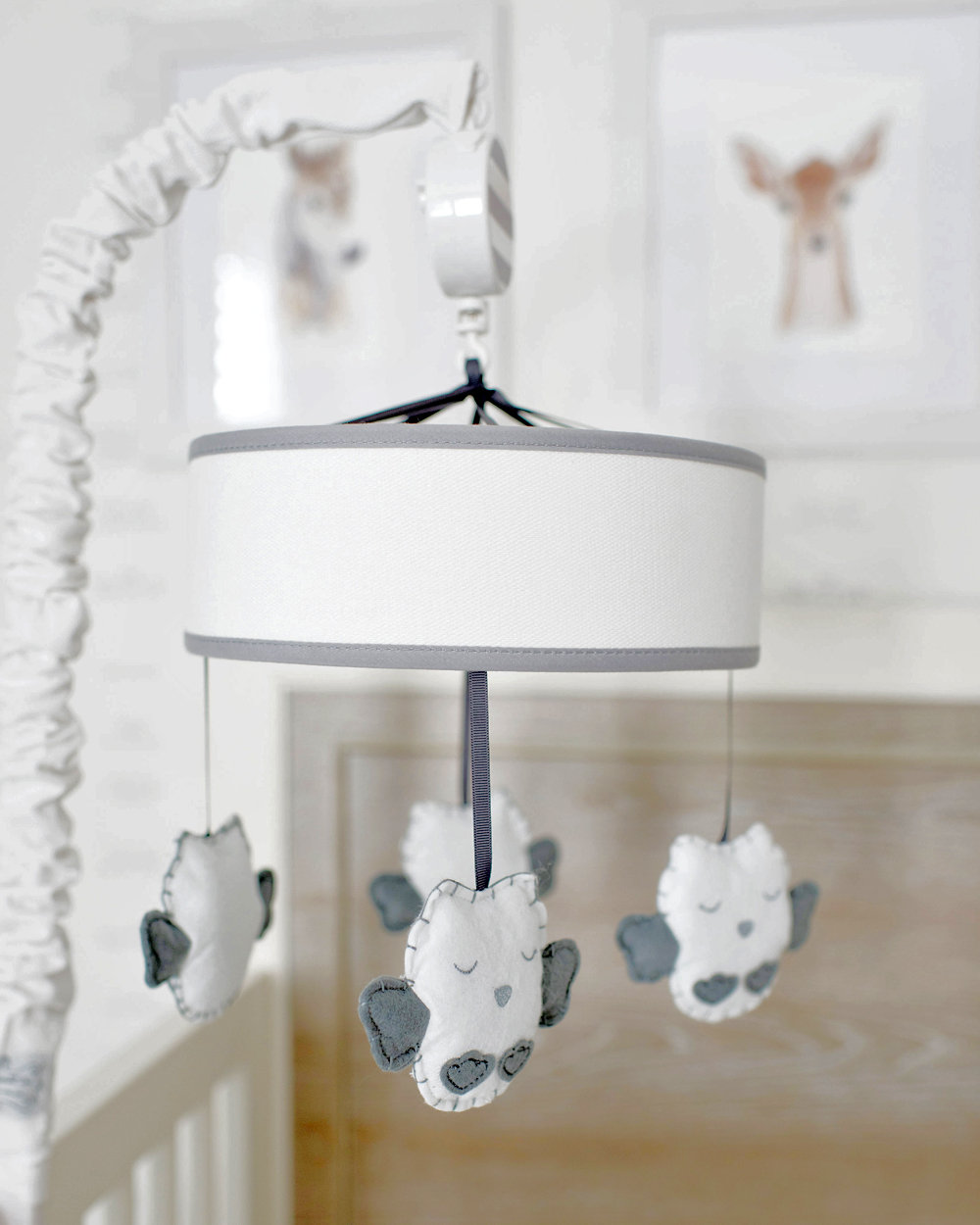 Photos: Julie Cate Photography
What was most important to you in the nursery?
It was really important to have a space we all wanted to be in. The glider was huge for me, because I knew I'd spend a lot of time rocking, feeding, and reading to him. Also, since I knew Sean would want to be in there with us to create those really special memories, the bench next to the glider was a must.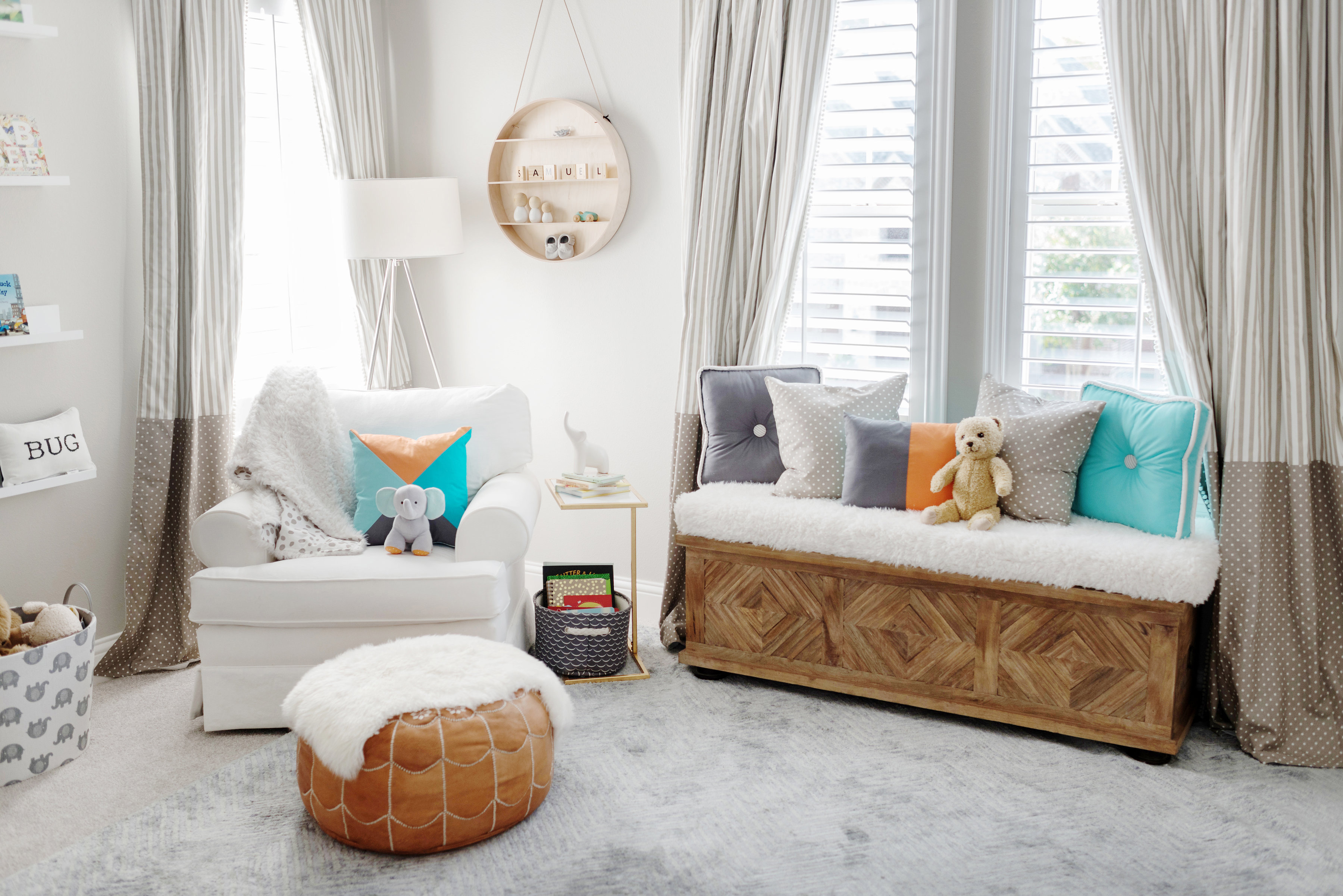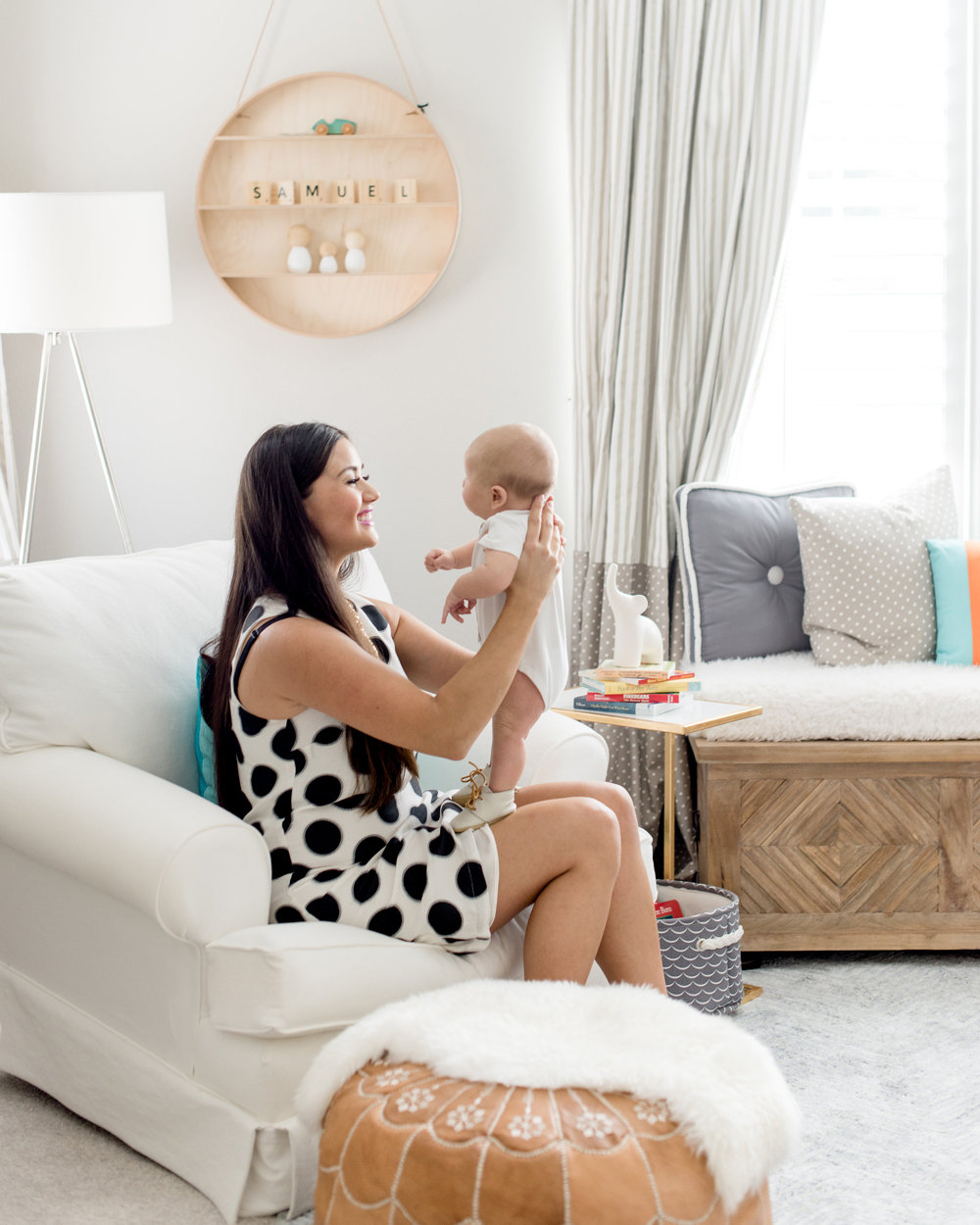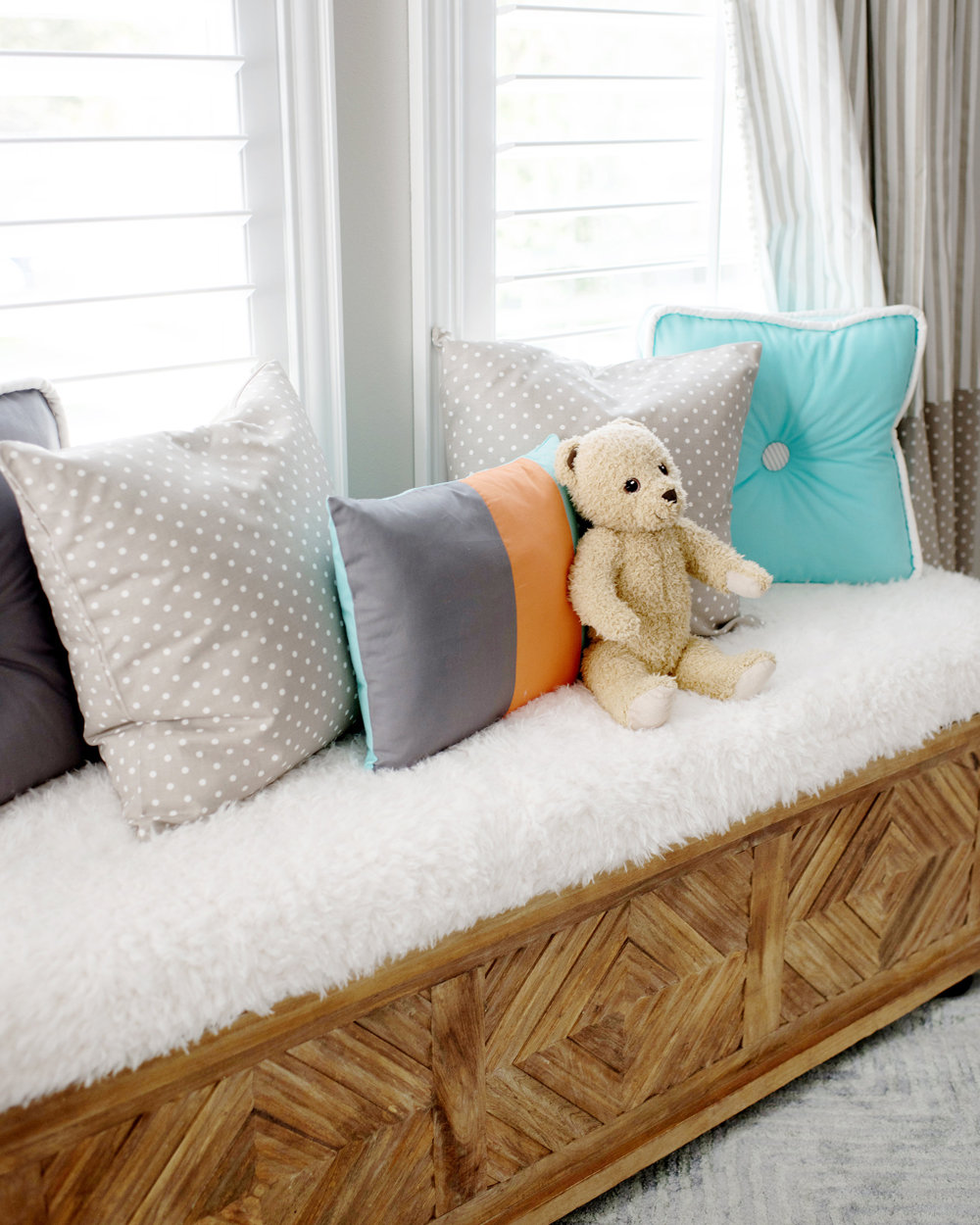 Photos: Julie Cate Photography
---
"We wanted the nursery to be a haven for the baby. Knowing that this stage would bring a lot of chaos naturally, I felt that creating a calm environment would help even out the stress."
Catherine Guidici
---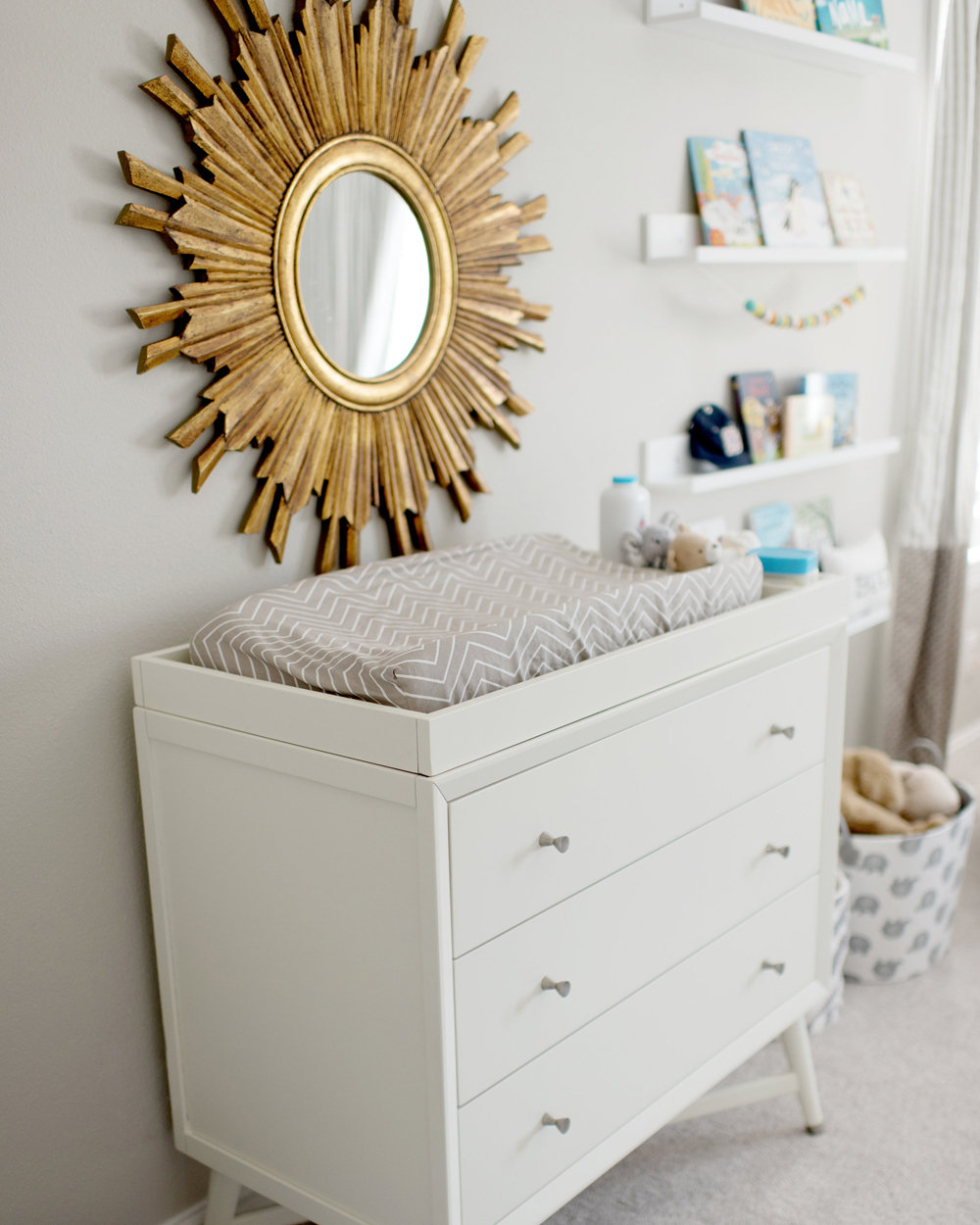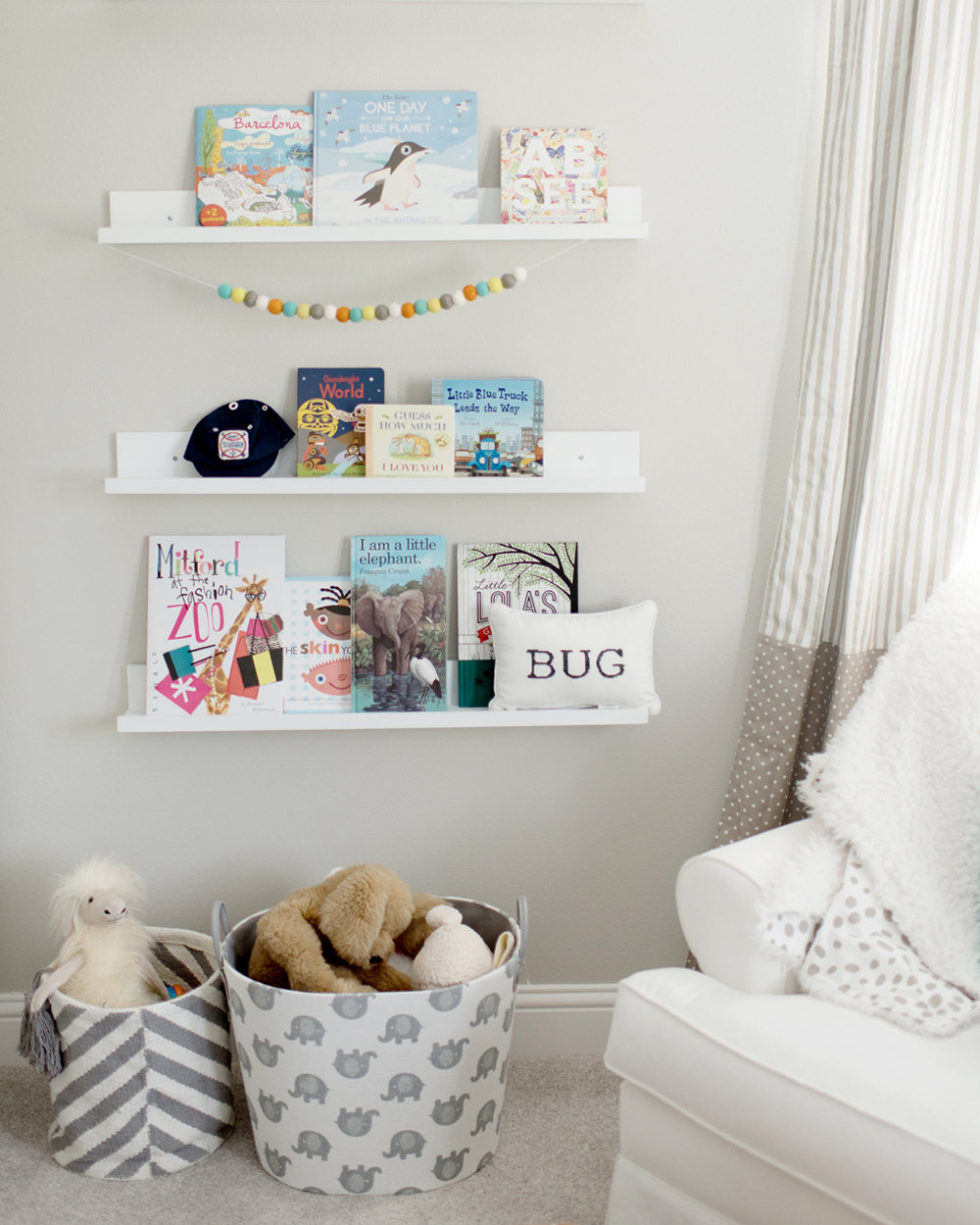 Photos: Julie Cate Photography
What is your favorite element in Samuel's nursery?
Catherine: The wallpaper I created for Samuel is my favorite part of the nursery. Before he was born, I pictured him in the room we designed. Knowing I made something special for him put a smile on my face. I also spent a lot of time trying to find the perfect nursing chair on Wayfair, and I am going to pat myself on that back for that choice. It's perfect!
Tori: That's a tough question—there are so many things I love about this nursery! I love the crib bedding. Catherine picked out each fabric and designed the collection herself. The dalmatian spots are fun and whimsical, and the color is a perfect neutral. The wooden storage bench is another favorite—it adds an element of depth to the room and is a great storage option to keep nursery necessities out of sight.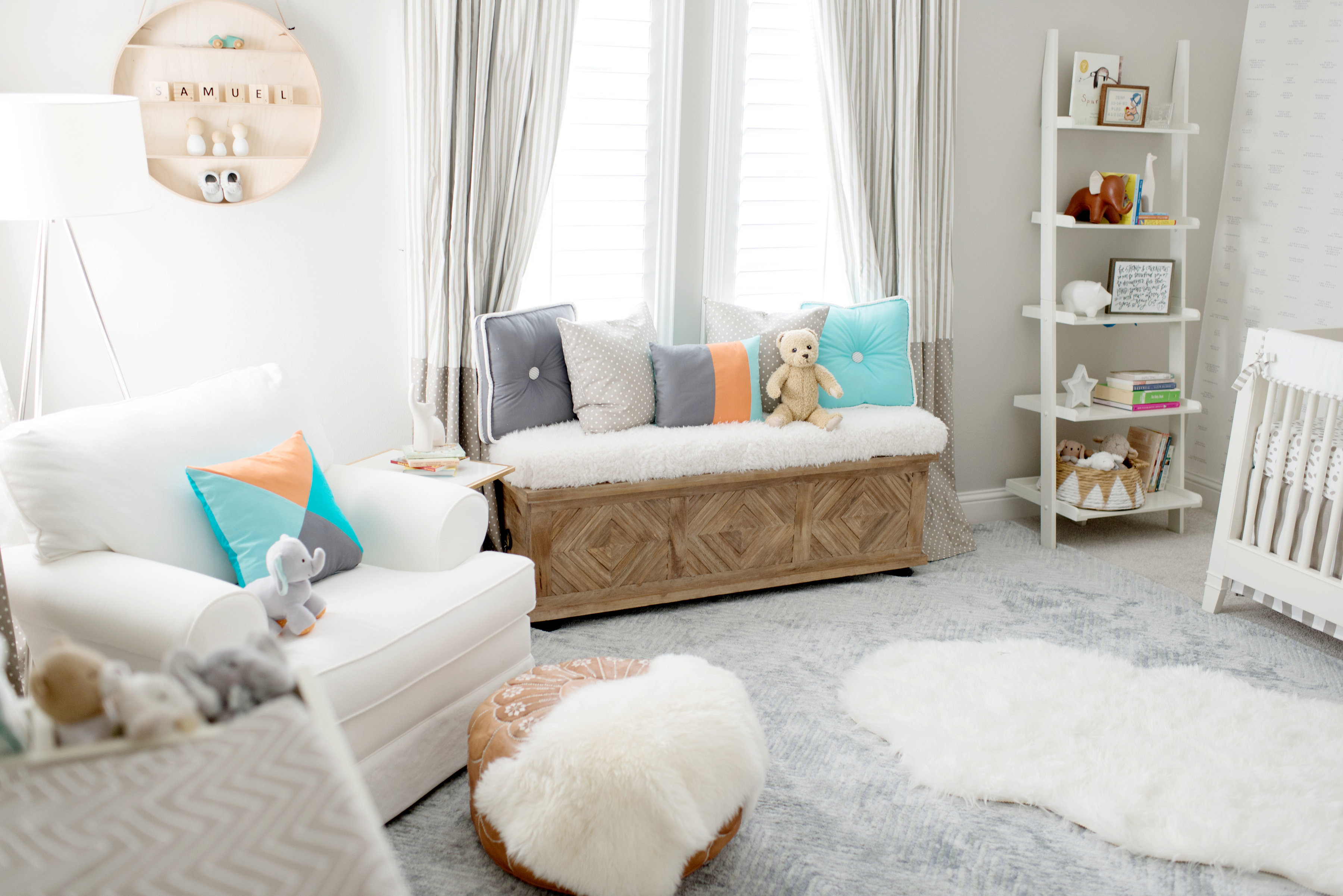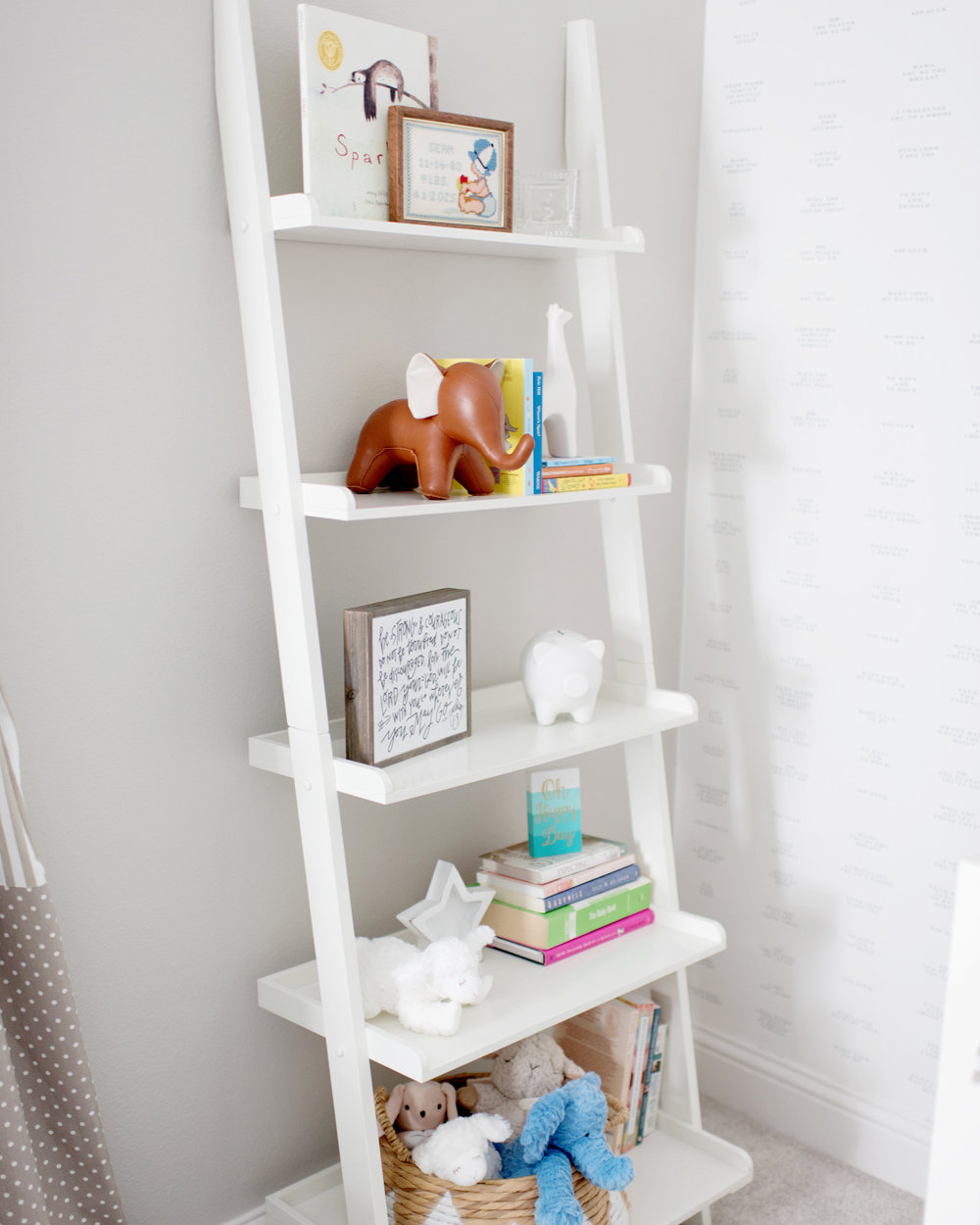 Photos: Julie Cate Photography
Tori, what is your must-have for every nursery?
One of the most important items in the room is the rocker or glider. Having a comfortable chair to feed your baby is essential.
Can you walk us through the design of the nursery?
We left the walls in the room a soft gray. For the crib bedding and curtains, we chose neutral khaki and white fabrics. The white furniture pops against the gray walls and keeps with the neutral colors of the room.
We had fun with texture by adding the wooden storage bench and the cushion we covered in soft sherpa fabric. The Moroccan leather pouf not only adds texture, but creates a color contrast. Catherine loves layering rugs, so we added the white polar bear faux fur shag rug on top of the area rug, giving the room an urban vibe. The sweet framed animal prints over the crib are a favorite of Catherine. We selected those for the nursery before anything else! The stuffed zebra is also a fun addition.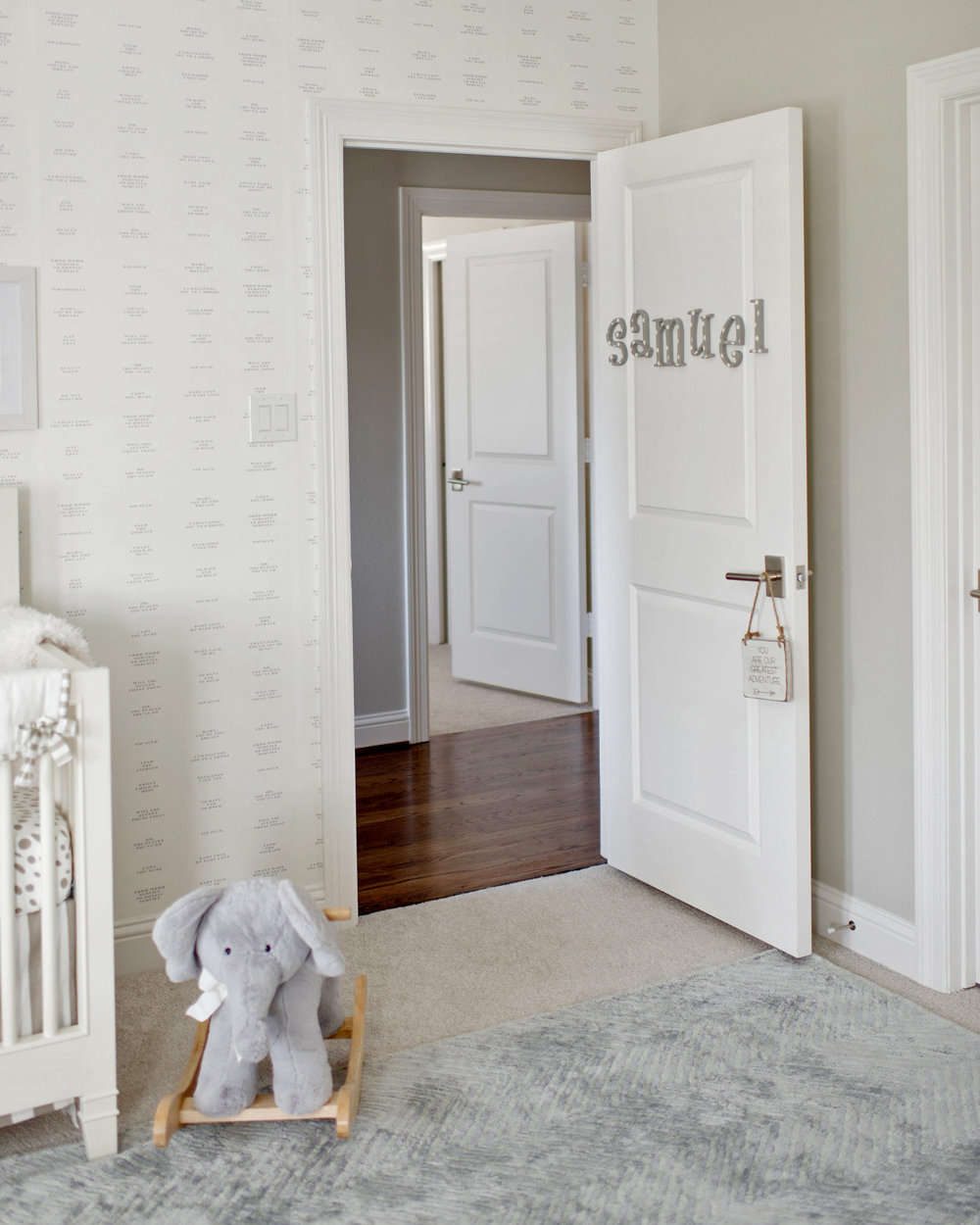 Photos: Julie Cate Photography
Tori, with three children of your own and two successful lines of bedding, decor, and gifts for children, you're a baby pro! How is decorating a nursery different than decorating another room in the house?
Though a nursery has components that differ from the rest of a house, many of the basic design elements remain the same. Decisions about walls, floors, window treatments, and lighting still need to be made. The nursery obviously has some unique items—the crib, a diaper changing space, and a comfortable rocker or glider.
A nursery can blend into a house's style or be completely different. Today, many nurseries incorporate furniture and decor not purchased from traditional baby stores. No matter what your style, the most important thing is to create a safe nursery space that you love, enjoy, and feel comfortable in. Your new baby won't have an opinion yet on your decor choices, so take advantage of this little luxury!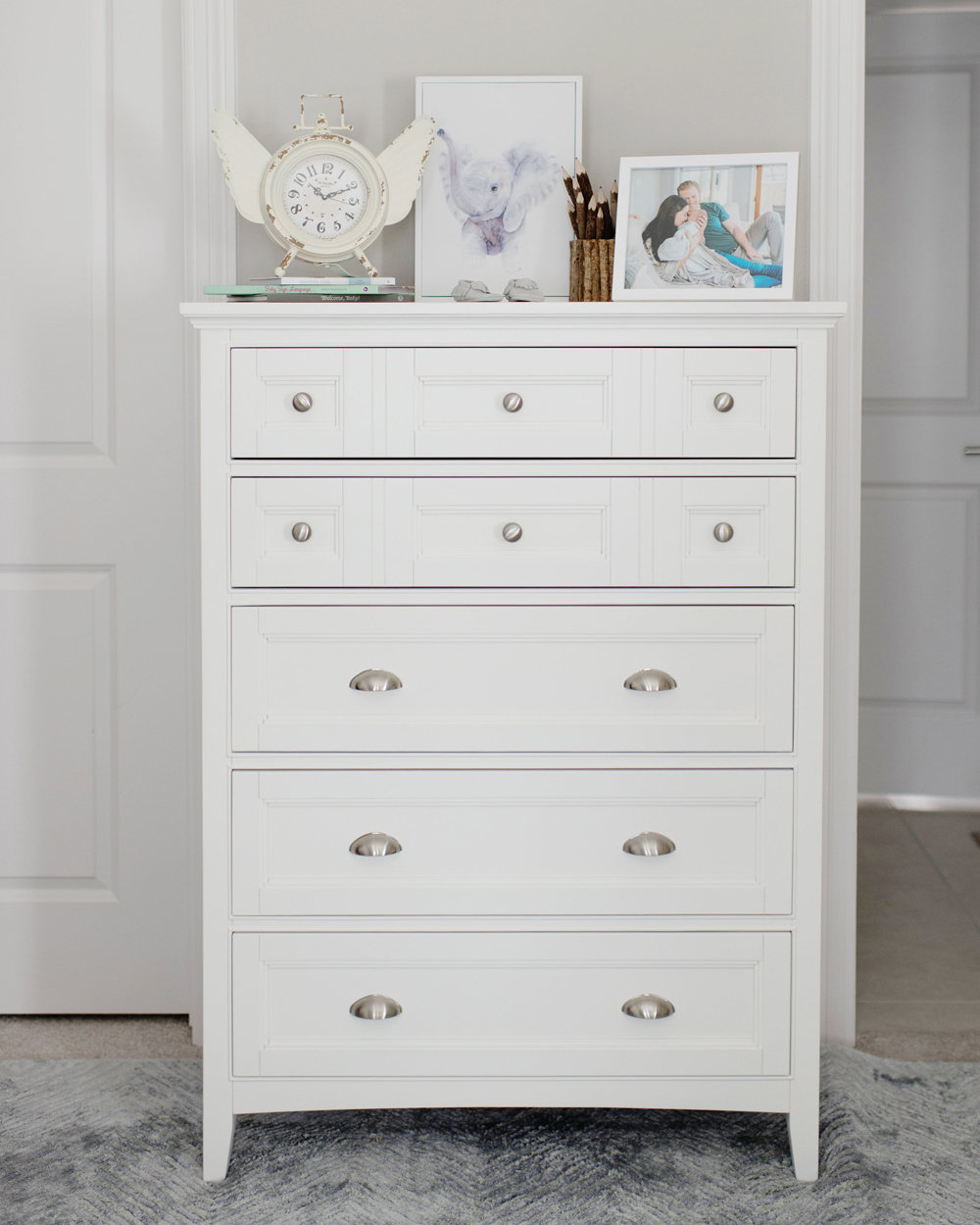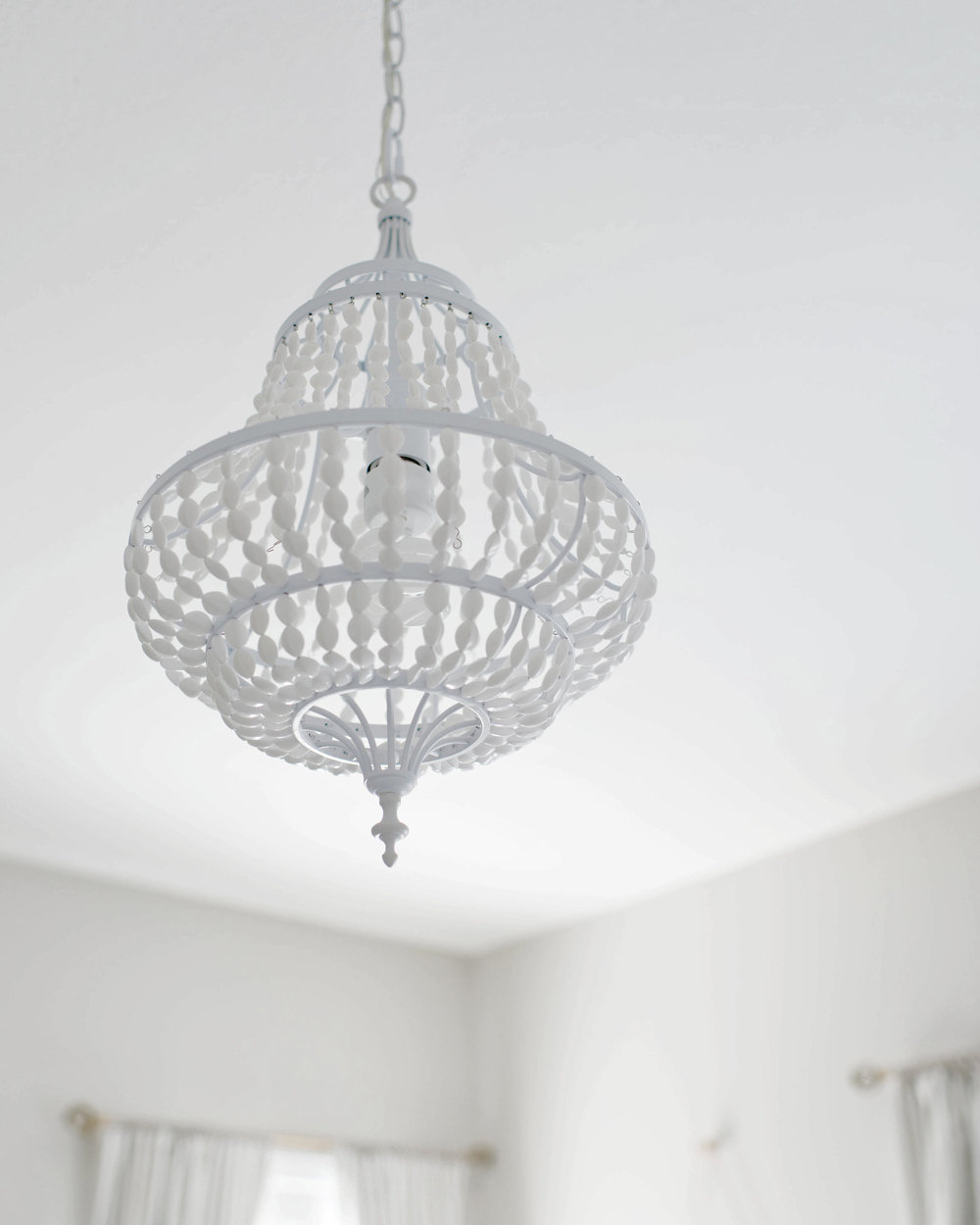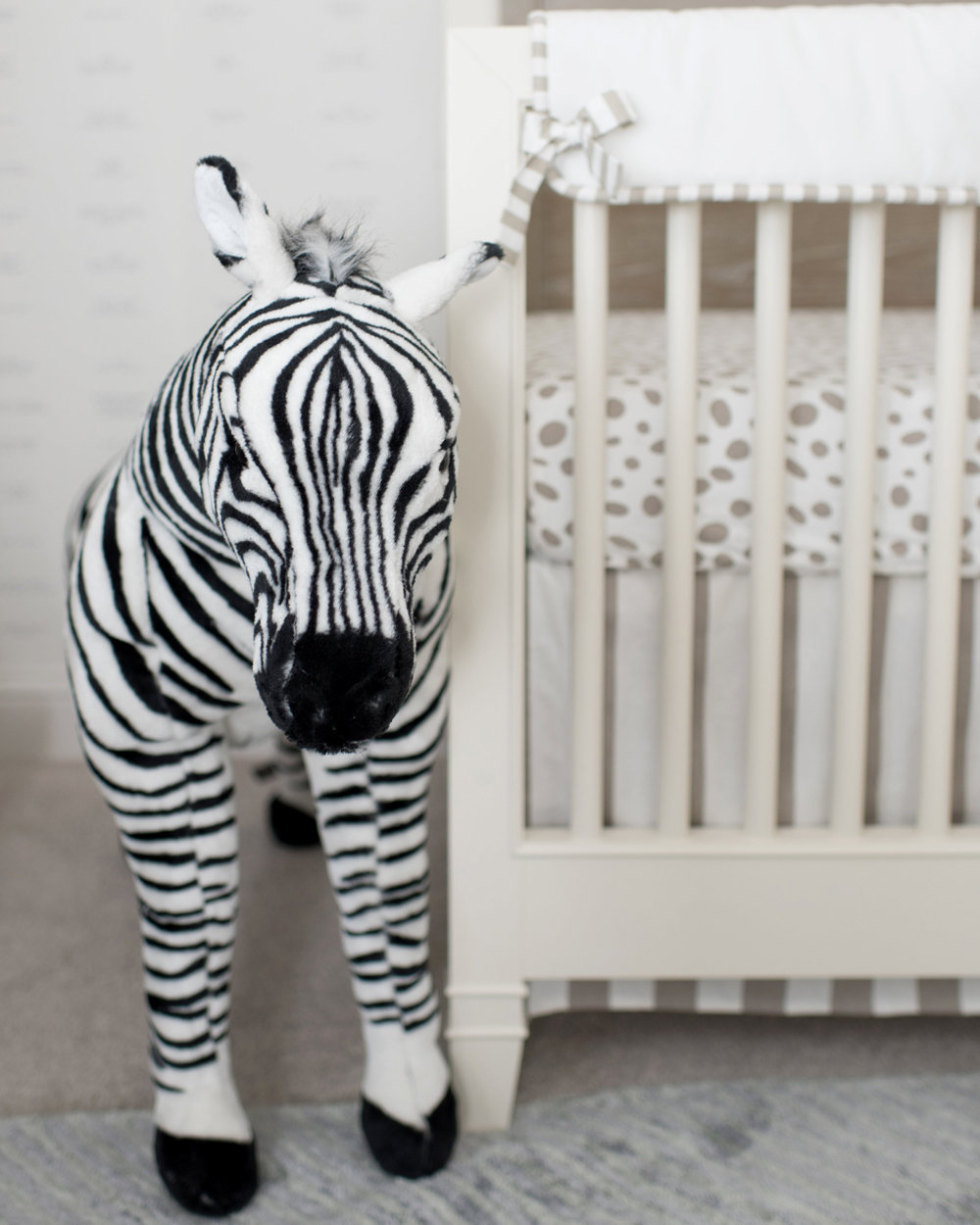 Photos: Julie Cate Photography
The Bachelor allowed us to share your courtship—from meeting and falling in love to getting married. Now, you've welcomed your beautiful baby boy Samuel to the mix. Any plans on a second nursery reveal in the future?
Well, we definitely want more kids. (I think we've proven we make cute babies!) And, we'll be using Wayfair for that second room once we introduce another child into our family. We love having our lives documented, so I'm sure we'll do another reveal when it's time!