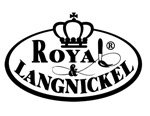 Royal & Langnickel
Brand's Average Product Rating
Based on 96 total reviews.
About Royal & Langnickel
Royal & Langnickel is a pioneer and recognized leader in developing. manufacturing and marketing superior grade art and beauty brushes with over 60 years of brush-making experience. The driving force behind their success is simple; they consistently anticipate the needs of our respective industries by listening and acting on our customers' suggestions. They surpass customer and consumer expectations by by maintaining a passionate commitment to excellence and fostering a spirit of innovation. Additionally, they offer a wide selection of art materials, art activities and accessories.