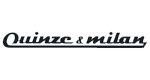 Quinze & Milan
Brand's Average Product Rating
Based on 251 total reviews.
About Quinze & Milan
Created by Arne Quinze in collaboration with guest designers from various disciplines, the Quinze and Milan collection goes beyond furniture design. The products prompt you to spin tales, to dream and to shape a reality all your own. They encompass parts of a whole rather than existing as solitary objects. The unique pieces exude energy and push the envelope of design.