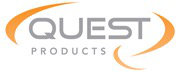 Quest Products Inc
Brand's Average Product Rating
Based on 67 total reviews.
About Quest Products Inc
Quest Products, Inc. is a diverse consumer products company with a multitude of great and unique products helping people live happy and healthy lives. Founded in 2001, Quest Products specializes in developing new products to meet the needs of the 21st century consumer. Quest specializes in home and health products, with brands displayed on retail shelves and e-commerce websites throughout the United States. Quest Products is ranked by INC Magazine as one of the fastest growing companies in 2008, 2009, 2010, and 2011.