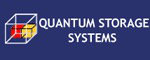 Quantum Storage
Brand's Average Product Rating
Based on 56 total reviews.
About Quantum Storage
Quantum Storage Systems offers the largest selection of plastic storage bins , steel shelving , rails and louvered panels, jumbo storage cabinets, tool boxes and new stack and nest totes with lids. In addition, Quantum provides a premium selection of conductive bins and systems in the industry. If you have questions, find a lower advertised price, or just want to talk, call us. We are here to help.