POOF
About POOF
POOF has been in business for over 60 years serving customers around the globe. With their line of quality and fun foam outdoor toys, you'll never be left out! Questions about Poof? Give our friendly customer service a call, we're happy to help!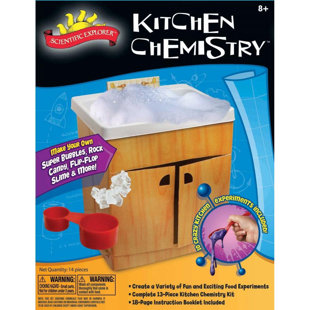 Kitchen Chemistry Mini Lab
by POOF
Here's a safe & fun way to explore chemistry without blowing up the house! This kit uses common household substances to make fun things like rock candy, super bubbles, and molding clay! Explore the science behind the food we eat and the substances we use in our homes everyday. Conduct experiments that turn bones to rubber, change liquid to rainbows, make candy, and many more amazing chemistry treats!
Overall: 9'' H x 7'' W x 2.5'' D
Overall Product Weight: 0.47lb.