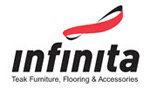 Infinita Corporation
Brand's Average Product Rating
Based on 73 total reviews.
About Infinita Corporation
Teak is the most precious tropical hardwood and has been used in the ship industry for decades. Infinita is in constant contact with their manufacturers to assure the product is of top quality - here just a couple of key items we continuously review: All wood is grade specific, All wood is kiln dried to perfect manufacturing condition, Packaging material is produced to specification to protect the product while handled and transported to the consumer.