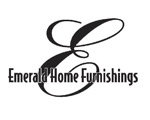 Emerald Home Furnishings
Brand's Average Product Rating
Based on 53 total reviews.
About Emerald Home Furnishings
Emerald Home Furnishings® is a full-line supplier to home furniture retailers throughout North America. Started in 1962 as B&D Sales by Bond and Doug Shippy, the company distributed bed frames and unfinished furniture. In 1974, George Ritchie, a company representative at that time, purchased the business. The company was incorporated in 1977 and continued to grow, adding a number of additional product lines. In 1986, Evan Ritchie purchased the company from his father, starting a whirlwind of growth. In 1990, Evan purchased a mattress factory, Perfect Rest Bedding, and in 1993 he added an import division known as Emerald Home Furnishings®. In March of 2002, ownership changed, and David Beckmann, President, began leading the Emerald team.