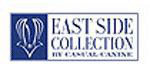 East Side Collection
Brand's Average Product Rating
Based on 41 total reviews.
About East Side Collection
East Side Collection™ Pet Fashions offer high-end designer style, selection, and value in clothing and accessories for the well-dressed pet. Our complete pet fashion collection features comfortable, attractive, and quality pet apparel in a wide variety of flattering styles, appealing colors, and luxurious fabrics. A convenient sizing guide on each package makes it easy to find the proper size for any pet. Because East Side Collection pet clothing is not sold in national chain stores, our pet fashions offer independent pet stores and pet care professionals great resale items their customers will not find anywhere else.