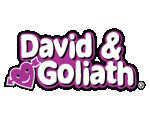 David & Goliath
Brand's Average Product Rating
Based on 74 total reviews.
About David & Goliath
Who is David & Goliath? Well it's a good thing you asked. David and Goliath just so happens to be a leading apparel designer, manufacturer, wholesaler and retailer. They make stupid stuff, so you don't have to. T-shirts, lounge wear, and fashion apparel that is mixed with their unique blend of attitude and sense of humor. With a growing collection of characters and sayings on soft fabric and great treatments, David and Goliath is light years ahead of the wanna-be competition and don't have plans on letting up.